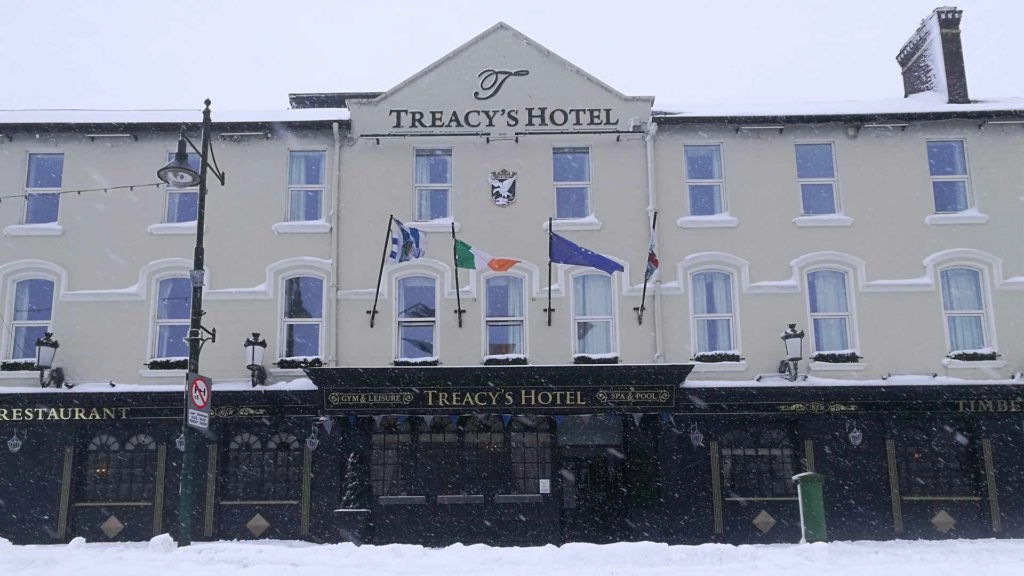 Warm Scarves, woolly hats, cosy gloves, big jackets, comfy boots, Christmas jumpers, blazing fires, hot drinks, and walking in the snow. That's what I think of when I think of winter. Some people love winter, some people hate it. I am one of those who absolutely Love it! I love walking around in the cold, brisk weather, being so wrapped up in all your winter essential clothes, taking a break from the Christmas shopping and relaxing in a coffee shop with a Pumpkin Spice Latte. What's not to love?
Waterford is the perfect place to do just that, and more. The city is transformed into a magical place with so much to see and do when Winterval takes place in the historic city from 25th of November to the 23rd of December. Treacys Hotel has the perfect location for you and your family when visiting Waterford for this years Winterval Festival, step outside your door and step into magic.
This mystical winter festival hosts numerous events for all the family, many of which are free. Start with visiting Waterford on Ice, directly across the street from Treacys Hotel and have fun with the family. Feel free to warm up again with a Hot Chocolate and take a seat by the fire before heading out again for the rest of the festivities. Take a stroll through the Christmas Market where 60 traditional log cabins provide many different foods, drinks, crafts, trinkets and gifts. Stop and enjoy the free 'Winterval Illuminates' show every evening where you will see Santa perform to music and an amazing display of Illuminates and Magic that will leave you lost for words.
Take an captivated tour of Waterford on a Horse Drawn Sleigh, taking in the wonderful Christmas Market, the festivities at John's Roberts Square and the Viking Triangle. Not a fan of horses? No problem, the Winterval Express Train is what you need to see all the wonders of the historic city with all the attractions along the way.
Visit Santa's Grotto in the impressive Medieval Museum, where the kids can explore the enchanted garden, hop on board the Polar Express Train, and have a nosy around the elves little houses. Then finish it off with a visit to the main man, Santa Claus where the little ones can give him their wish lists and get a picture of the moment they will never forget.
It wouldn't be Christmas without Christmas Shopping, which can be a burden or a pleasure. We all know that the Christmas shopping spree can have quite a negative effect on your wallet, but lucky for you we can help ease the damage just a little bit. All guests at Treacys Hotel receive 10% off when shopping in over 16 of Waterford's finest stores, including our very own Spirit Beauty Spa. We know how sore those shoulders can get after carrying 10 tonnes of bags around all day, so leave it to the very experienced therapists to ease your pain and stress with a deep tissue back massage and a foot rub, Merry Christmas to you!
After all the entertainment, we all need to relax with a hot meal and a glass of wine…without the kids of course! Enjoy a well-deserved meal in Crokers Restaurant while the kids get entertained in the Kids Club with Arts & Crafts, Movie Time and their very own home cooked dinner. This Family Friendly Hotel also provides a babysitting service, so if you would like to top the evening off with a drink in Timbertoes Bar with live entertainment, you're more than welcome. Did I miss anything?
Treacys Hotel is the quintessential Christmas holiday destination. With its homely and welcoming atmosphere, we have every aspect of your perfect winter holiday sorted. There is never a dull moment in Waterford City, whether it be for culture, family fun, history, heritage, or just a nice break away with that someone special, Waterford City has something to offer to everyone this wintertime, where you are sure to be thoroughly entertained throughout this season.
Treacys Hotel hopes to see you this Winter for a remarkable experience you won't ever forget.
Visit our Website www.treacyshotelwaterford.com for current offers this Wintertime or call us directly on 051 877222.